Greetings all.
First, a big "THANKS!" to Brian/GWR. I'm a thoroughly satisfied customer.
Second: well just muttering... I've spent the last month+ finding time to install Tokico HTS w/Eibach Sport springs, full GWR exhaust (sport single), AEM intake, and various minor items.
I planned to also upgrade my wheels and tires, however I've spent my wheel money on a "winter" car ('87 Samurai, huzzah!). So, wheels have to wait a bit. Being bored though, I figured I'd blow a few dollars on some spray cans to see how I like black rims on my silver MX5. I like! So, I thought I'd share a picture. Pardon the lighting, I took this just after installing the wheels and didn't put much thought into making a nice picture.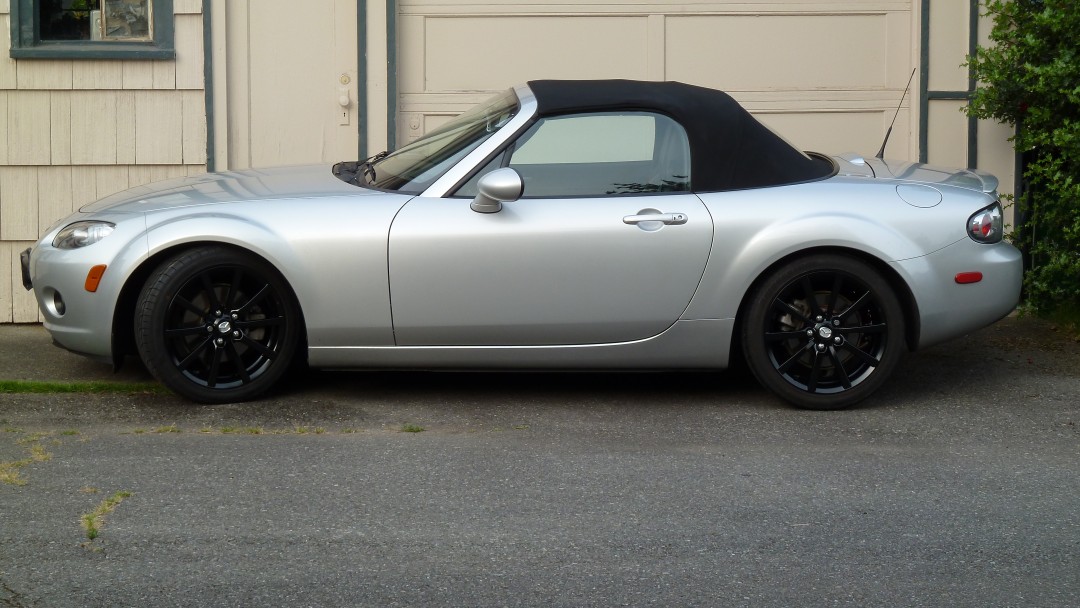 For the curious, I spent a full day (11am-8pm) de-greasing/cleaning the rims, priming (2 coats), and painting (semi-gloss black ... 3 coats on the inside, 4 coats on the outside). Even taking so much time, I bet the paint doesn't last long nor hold up well with small rock dings. Still, for about $20 I have a cheap "mod" to admire until it flakes off. heh Downfall: it's now 1am and my index finger is still numb -- I
highly
recommend buying one of those spray-can trigger contraptions if you plan to paint your rims -- something I didn't do, and totally regret.
Next, and very needed "cheap" mod -- paint the rotors/calipers (black, mostly). The black rims really make my rusty brakes look horrible.